Successful collaboration between Global Reporting Initiative (GRI) and SIPPO to increase BSOs services to their members.
SIPPO Indonesia collaborates with GRI to conduct ToT trainings for BSOs to support them in Sustainability Reporting or sustainability company profile development. The training is designed for BSOs to improve the services for their members or companies so that they can better connect to the global values chain. The ToT trainings provide tools for a professional and tailor-made company profile which includes sustainability practices that have already been prepared by the companies to meet their customers' needs.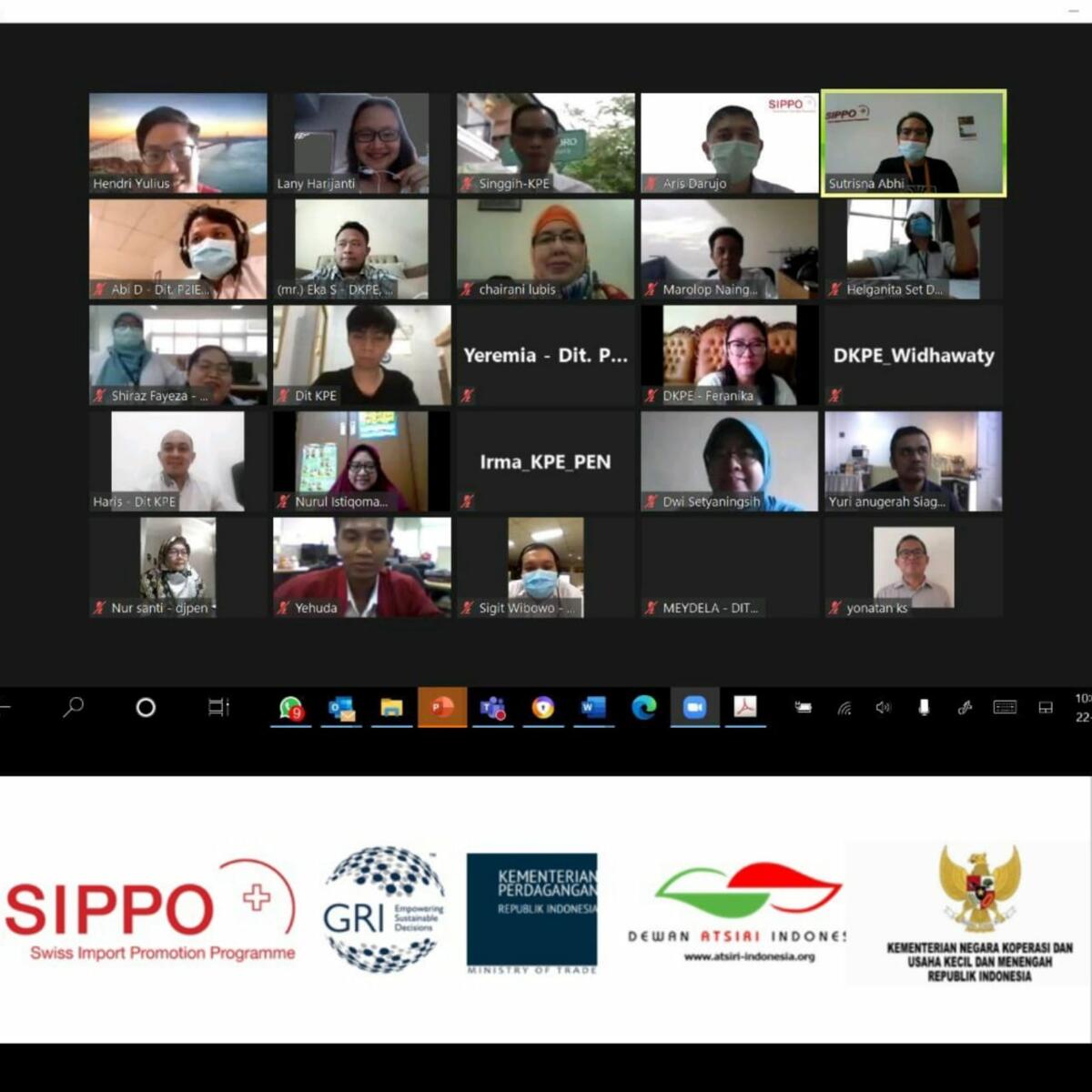 I
In a global economy nowadays it is very challenging for Small and Medium Enterprises (SMEs) to join the global value chain. There is a current trend that "opens the door" for suppliers to enter the global value chain: They need to apply sustainability practices. We are aware that sustainability practices are quite challenging and are now widely used by any businesses. However, most of the SME and export promotion agencies such as BSOs still have not a profound idea and a clear understanding how to expose these practices to promote SMEs. Knowing this situation, SIPPO and GRI provide a ToT training for BSO's staff who have the mandate to increase the export turnover for their members. GRI's ToT training has similarity with SIPPO's program to assist BSOs in expanding their knowledge and skills for the last mile (export promotion) and eventually support them to increase the export turnover for BSOs members.        
GRI and SIPPO successfully conducted ToT trainings for three BSOs. Two BSOs are ministry agencies, i.e.Ministry of Trade, Ministry of Cooperative, Small and Medium Enterprises and one private sector Association, Indonesian Essential Oil Council. The trainings were conducted in two different formats, virtual and classroom training, and so SIPPO ensured compliance with Swisscontact health measures in the Covid-19 Pandemic.  About thirty Ministry of Trade and two DAI's officers attended the ToT training virtually, and ten Ministry of Cooperative, Small and Medium Enterprises and another two DAI officers participated in the classroom training. At the final phase of these trainings all participants elaborated a concrete output and produced sustainability company profiles in order to become GRI's certified training partners. This is required for all participants who will conduct trainings for SMEs to develop sustainability company profiles. These profiles are going to be used by their members to promote their companies in the upcoming B2B matchmaking, facilitated by the respective BSOs.