Strengthen the Branding of Tunisian olive oil on the Swiss market
Promoting the export of Tunisian olive oil on the Swiss market  and enhancing the value of local varieties with their specific organoleptic characteristics, this was the aim of a recent online workshop organised by SIPPO and the Chamber of Commerce and Industry Tunis CCIT. The workshop dealt with the sensory evaluation of Tunisian olive oils in view of the "Olive Oil Award – Zurich 2021" (IOOA).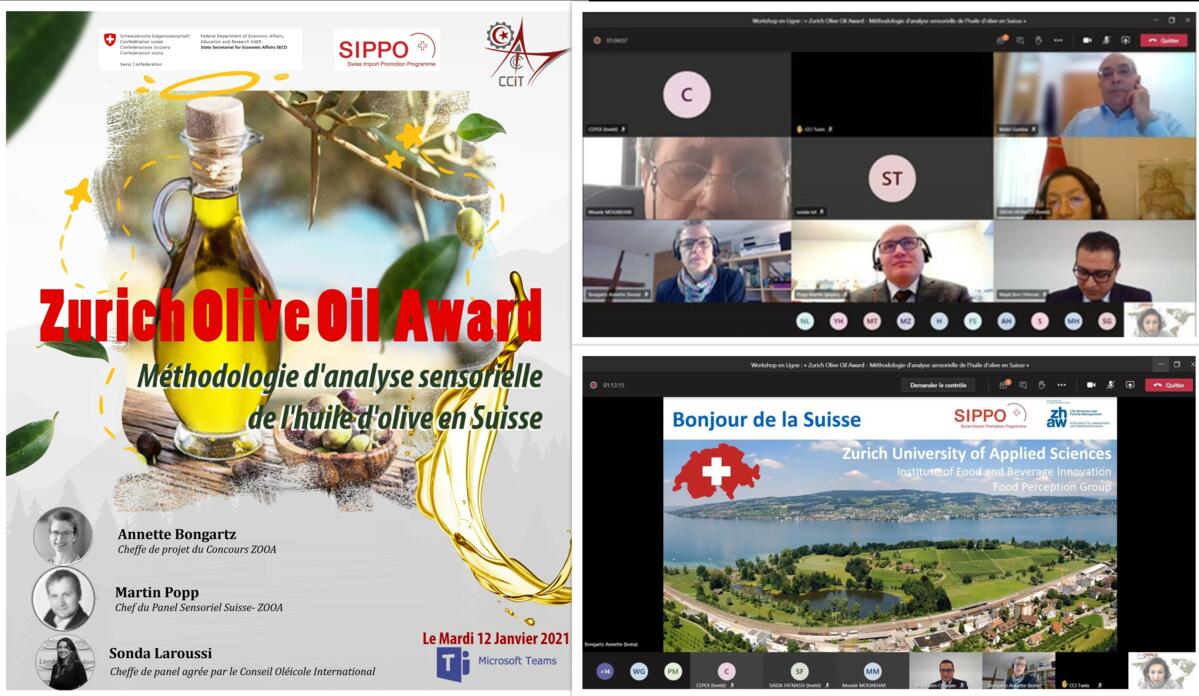 The workshop was held remotely on January 12th ,2021 under the topic of "Zurich Olive Oil Award- The Methods of Olive Oil Sensory Analysis in Switzerland", and it was animated by two Swiss experts of Olive Oil sensory evaluations, Mrs. Annette Bongartz, Project Manager of the ZOOA, and Mr. Martin Popp, Head of the Swiss Sensory Panel – ZOOA, as well as a Tunisian oleologist expert, Mrs. Sonda Laroussi, panel leader approved by the International Olive Oil Council.
The Positioning on the Swiss market
The International Olive Oil Award - Zurich is a considerable gateway for Tunisian olive oil exporters to access the Swiss market. The workshop offered an opportunity to raise the awareness among operators in the sector on the analysis methodology used in the competition of IOOA-Zurich, and to identify the sensory characteristics of Tunisian varieties by the Swiss panel of experts. Furthermore, the workshop provided the opportunity for a comparative analysis of the organoleptic quality of Tunisian olive oils and the oils currently available on the Swiss market. 
Network cooperation
CCIT and SIPPO invited several stakeholders of the olive oil sector to this event, reaching from Producers, Exporters, Business Support Organizations, Oleological experts to the partner programs IPD and PAMPAT. The aim was to bring together all the key players in the sector and to sensitize the whole trade promotion ecosystem to the importance of the support of the Tunisian participation in the IOOA competition. The IOOA competition in Zurich is the best way to strengthen the brand "Tunisian olive oil" on the Swiss market which will in the end positively contribute to the development of its exports.
One highlight of the workshop was the attendance of Mrs Saida Fatnassi, Consul and Economic Counsellor at the Tunisian Embassy in Bern. She congratulated the organizers on the success of the event and emphasized her commitment to support, together with SIPPO, future activities to promote Tunisian olive oil in Switzerland.