SIPPO SOUTH AFRICA SUPPORTS BSO PARTNERS AT BIOFACH TRADE FAIR
Biofach 2020: First official South African participation at the world's largest organic food trade fair in Nuremberg, Germany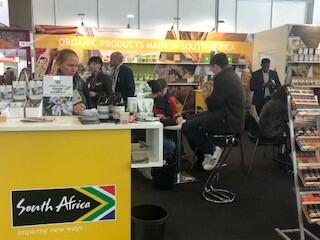 With more than 47 000 trade visitors from 136 countries and 3 792 exhibitors from 110  countries, the Biofach trade fair continued to grow in importance, with two additional exhibition halls added in 2020, confirming its position as the world's largest international trade fair for organic food and beverages, combined with Vivaness International Trade Fair for Natural and Organic Personal Care.
The 20th edition of Biofach took place from 12 – 15 February 2020 and focused on current sector trends and the latest innovations and concepts for organic food and agriculture for the future. The organic market in Europe continues to grow with retail sales of organic products worth Euro 40.73 billion in 2018 which is an increase of nearly 7.8% compared to 2017, according to the Research Institute of Organic Agriculture (FiBL). The largest market in Europe is Germany with Euro 10.91 billion followed by France with Euro 9.14 billion. The French market was the fastest growing market in 2018, showing growth of 15.4%, followed by Switzerland with 13.3%. The countries where sales of organic products enjoy the highest market share, are Denmark (11.5% market share), Switzerland (9.9%) and Sweden (9.6%).
SIPPO supported the country pavilions of South Africa, Morocco, Albania and Serbia, whose Business Support Organisations (BSOs) collaborated closely with SIPPO to enable successful participation for their co-exhibitors at Biofach.
South Africa is a relative newcomer in the world's organic market and participated for the first time with an official country pavilion at Biofach this year, showcasing the products of 16 exhibiting firms with a variety of organic products from the natural ingredients sector produced in the country, including the following: rooibos, rosehip and honeybush teas, a wide range of indigenous and other essential oils, moringa products dried herbs and dehydrated vegetables.
SIPPO at Biofach: supporting from the side-lines
In close collaboration with its South African partner BSOs, the dti, and WESGRO, SIPPO transferred know-how and support for the preparation and successful participation in the trade fair.
BSO representatives were able to meet counterparts from Peru, Morocco, Albania and Serbia to explore opportunities for potential collaboration; participate in capacity-building activities - such as  outbound visits to potential customers; competitor analysis, and attend a workshop on legal requirements to sell organic products in Europe, which was facilitated by SIPPO. BSO representatives were also able to attend certain of Biofach's conferences on the organic market and were inspired by the sector's latest trends and developments.