SIPPO Global Meeting & Partner Event 2019
A strong kick-off for the programme's second half time of its mandate phase 2017-2020, where partners from all European stakeholders joined for a two-day programme at Basel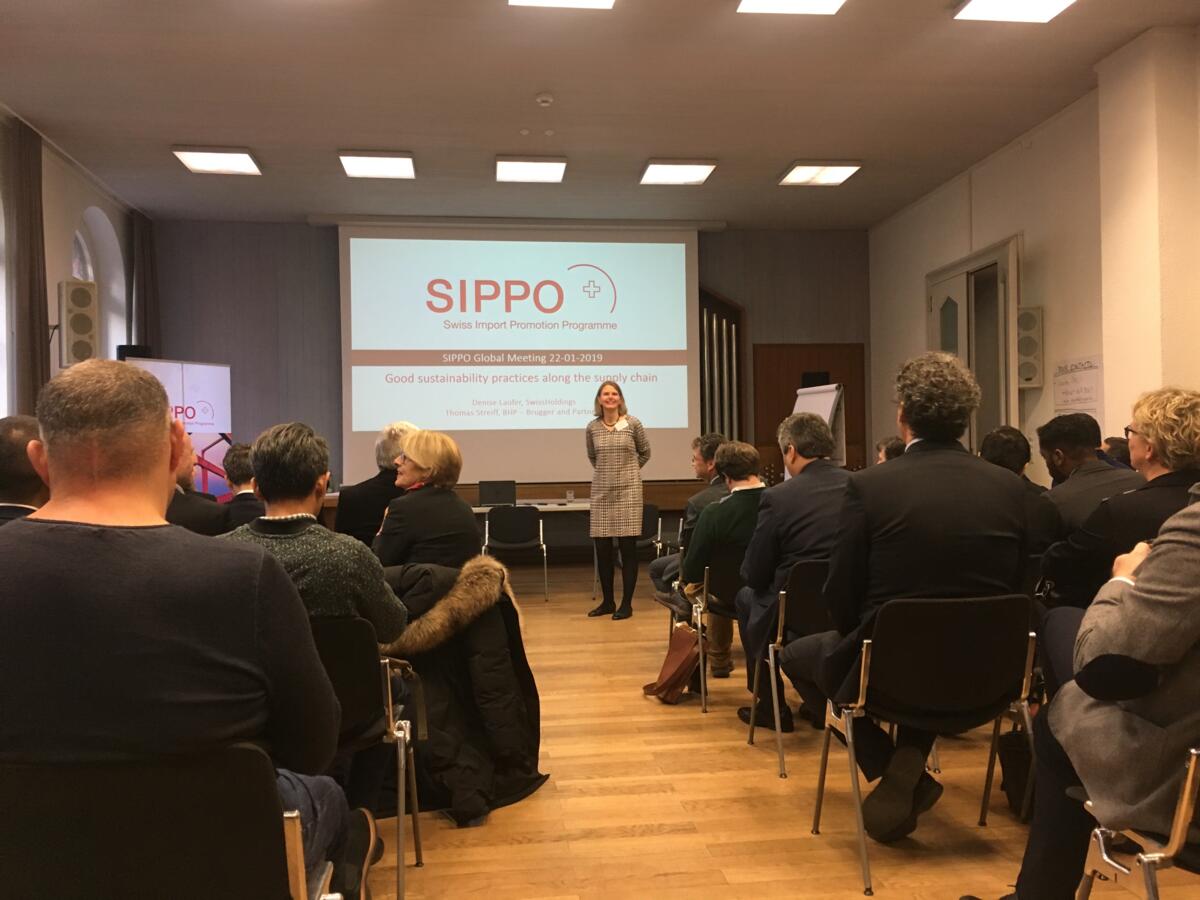 SIPPO staff from all over the world flew in to Basel the week of the 20-25th of January for planning sessions, discussions with sector experts and European partners with the aim to make sure that activities planned for 2019 will be implemented timely, synchronized and with large success.
For two days, Tuesday 22nd to Wednesday 23rd of January 2019, the Global Meeting was opened up for partners: SIPPO dedicated the Tuesday afternoon session to the topic of CSR – first, presenting a study which is currently being undertaken by SIPPO in the natural ingredients sector, which analyses whether non-certified but CSR conscious suppliers could have a business case for (small-scale) importers which is currently undergoing. Initial findings showed that there seems to be a demand for products from such producers, yet who is to pay for supervision of such cases is not presenting a clear business case. Author of the study, Elisabeth Rüegg, was very satisfied with the constructive feedback she received from peers present at the session, which will feed into the study. The second part of the session was moderated by Thomas Streiff, Partner at Brugger & Partner (BHP) and Denise Laufer (Swissholdings & SIPPO Advisory Board), who invited speakers from Roche (Nicole Schumacher) and Givaudan (Romano de Vivo) to present how their companies ensure social responsibility. Both companies explained that they had processes in place to make sure that suppliers were supported to be compliant with requirements and that, when failing to be, support was given to reach the necessary CSR targets.
The next day SIPPO presented two of their innovations to participants: the Trade Promotion Collaboration (TPC), an initiative with the Dutch and German import promotion programmes (CBI and IPD respectively), where in working sessions where material, expertise and experience were share to come up with state of the art knowledge content which all three programmes could use in their capacity building trainings. This enhances collaboration and makes sure that, particularly where all three programmes work with the same Business Support Organizations, messages and capacity building are synchronized in the best manner. SIPPOs Customer Relations Management (CRM) Tool with an embedded MRM (– results monitoring) tool was also presented to stakeholders as a tailor-made solution for BSOs which undertake export oriented activities – such as participation at a trade fair – with the embedded steps to undertake as well as proposed key performance indicators which could be used and adapted. Rollout of the tool is planned within 2019 to all 11 SIPPO countries.
Several parallel working sessions (on collaboration in countries of joint activities, the TPC, a CRM sounding board) continued throughout the day and lay the groundwork for a successful implementation of the programme in 2019.
On Thursday 24th of January, SIPPO staff undertook a field trip to Bio-Partner AG, Switzerland's largest organic foods wholesaler, where it was possible to see sourcing in action: guided through its 5 Warehouses for all types of food, with a very clear presentation by Head of Commodity Trading Sebastian Apfelstedt, on what matters most when sourcing organically, SIPPO staff could get a real feel for the type of buyer of the exporters supported by the programme. So what does matter most when sourcing organically? The story that lies behind the product: who is the farmer, the community which is producing this product, what makes the soil or the longevity of the farm a success – always, the people behind the business. With this, SIPPO can identify strongly with: after all, it is the support through and with its staff, partners and stakeholders that the programme can make its impact.