PROMPERU and SIPPO Peru join forces to strengthen the sector of cocoa, chocolates and derivatives
PROMPERU, in alliance with the Swiss Import Promotion Program (SIPPO) in Peru, is conducting a training process for its officials in order to strengthen their market intelligence and commercial promotion capabilities in the cocoa and chocolate sector.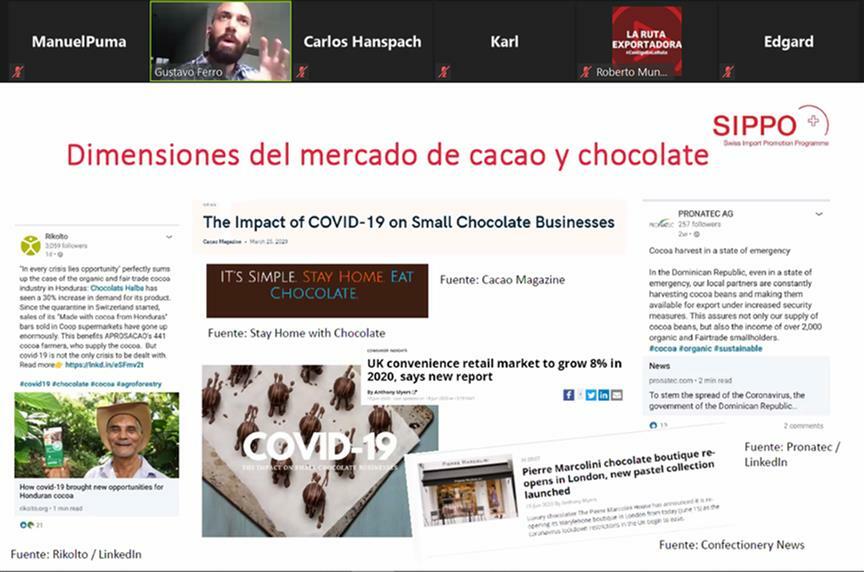 These trainings are being carried out to improve the execution of commercial activities in the 2020 Cocoa and Chocolate Show, which for the first time is carried out virtually. As part of these capacity building efforts, the members of the Export Promotion Area, Export Development and OCEX team have received the first two training webinars to learn about trends in the cocoa and chocolate market and to identify search mechanisms for international buyers.
The SIPPO international consultant, Mr. Gustavo Ferro, after training the PROMPERU team, held a pre-fair workshop with the companies participating in the event, such as Cooperativa Agrobosque, Ucayali River Cacao, Cooperativa Agroindustrial Cacao Alto Huallaga, Cooperativa Agroindustrial ASPROC-NBT, Tinkiy chocolates, Asociación de Productores Agropecuarios de Huallaga, among others.
In the webinar, the companies were trained on the situation of the cocoa and chocolate market in Europe, the current consumption of chocolate, information on the fine chocolate market, future consumption, cadmium legislation, organic cocoa, fair trade, use of buyers search tools.
As part of the consultancy, the SIPPO expert will carry out two other webinars to analyze the institutional experience and promotional strategy of other countries that may serve as input for PROMPERU so that they can design new promotional procedures in the COVID environment -19 for the cocoa, chocolate and derivatives sector. It should be noted that PROMPERU is in a strong stage of digitization of its activities, for which SIPPO is adapting to this concept through virtual training, providing experts from Europe in order to strengthen PROMPERU and the processed food, wood and tourism sectors.