WORKSHOP EXTENDED RESPONSIBILITY OF THE PRODUCER AND CIRCULAR ECONOMY: PACKAGING SECTOR.
Recent changes in global and national legislation regarding packaging management, will impact exporting companies. How to prepare adequately to ensure compliance with regulations and take advantage of this situation to ensure the sustainability and future growth of companies? : SIPPO in alliance with PROCOLOMBIA, the Chamber of Commerce of Bogotá, ANDI, UNIDO and ACOPLASTICS organize the REP and Circular Economy Seminar.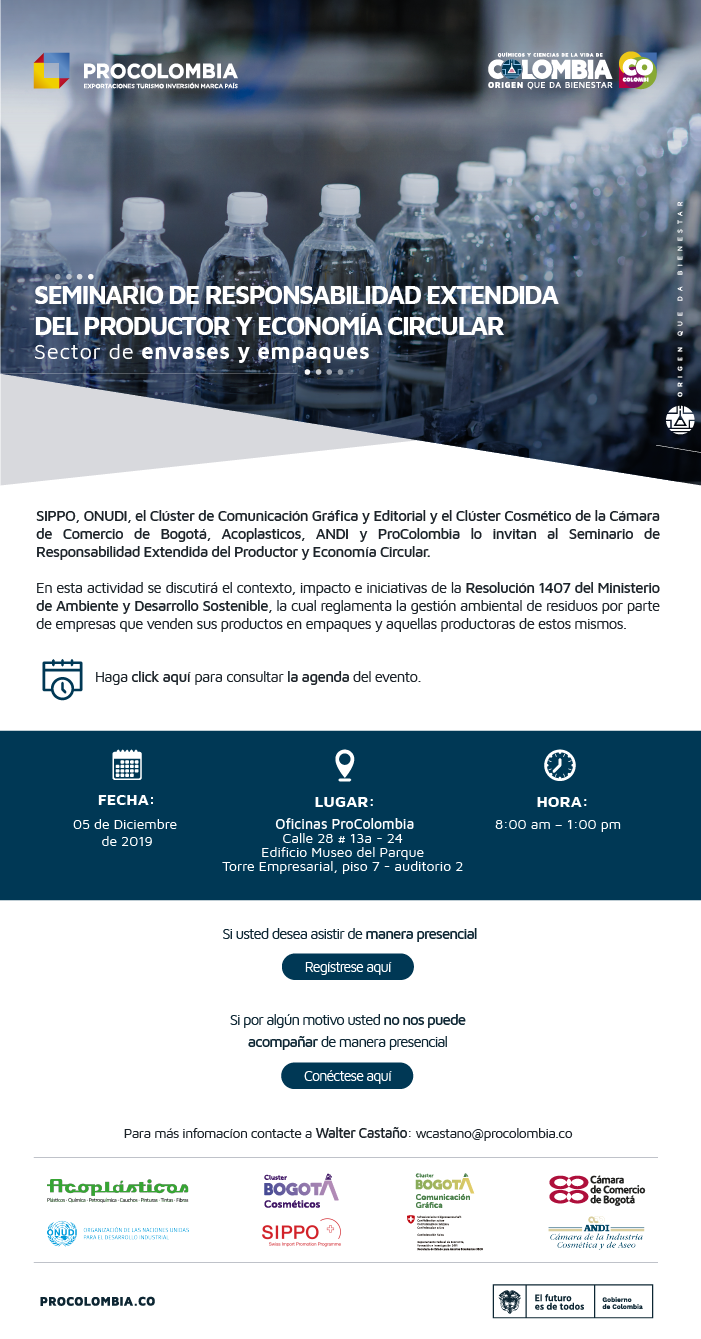 On December 5th, the Seminar of Extended Responsibility of the Producer and Circular Economy of the packaging sector will be carried out in conjunction with ProColombia and the Chamber of Commerce of Bogotá and in partnership with ANDI, UNIDO and Acoplásticos . The main global ecodesign and circular economy trends for packaging will be presented at the seminar; A review of the requirements in the main export markets of Colombia in this matter will be made; The gaps and quality requirements of the Colombian plastic sector to access international markets will be analyzed and resolution 1407 of July 2018 will be presented, this resolution regulates the environmental management of packaging, cardboard, plastic, glass and metal waste.
Similarly, within the framework of the Seminar, ANDI will present the 3030 vision of packaging management, showing some of the success stories of companies in the country. Finally, the seminar will address the circular economy model and its importance for an industry that should be increasingly based on the use of resources betting on reuse, to ensure sustainability and future growth. This seminar aims to provide tools to companies in all sectors to adapt to this new international trend that is already a reality.
Registration for the seminar can be done at the following link:
The event will be streamed.