From Trainees to Trainers
The Ministry of Trade of the Republic Indonesia (MOT) has successfully conducted a virtual sustainability reporting workshop and a sustainability company profile training. This training was attended by 20 people of 17 small and medium enterprises. All training materials were delivered, and the training was led by staff of The Ministry of Trade with the support of GRI and the SIPPO Indonesia team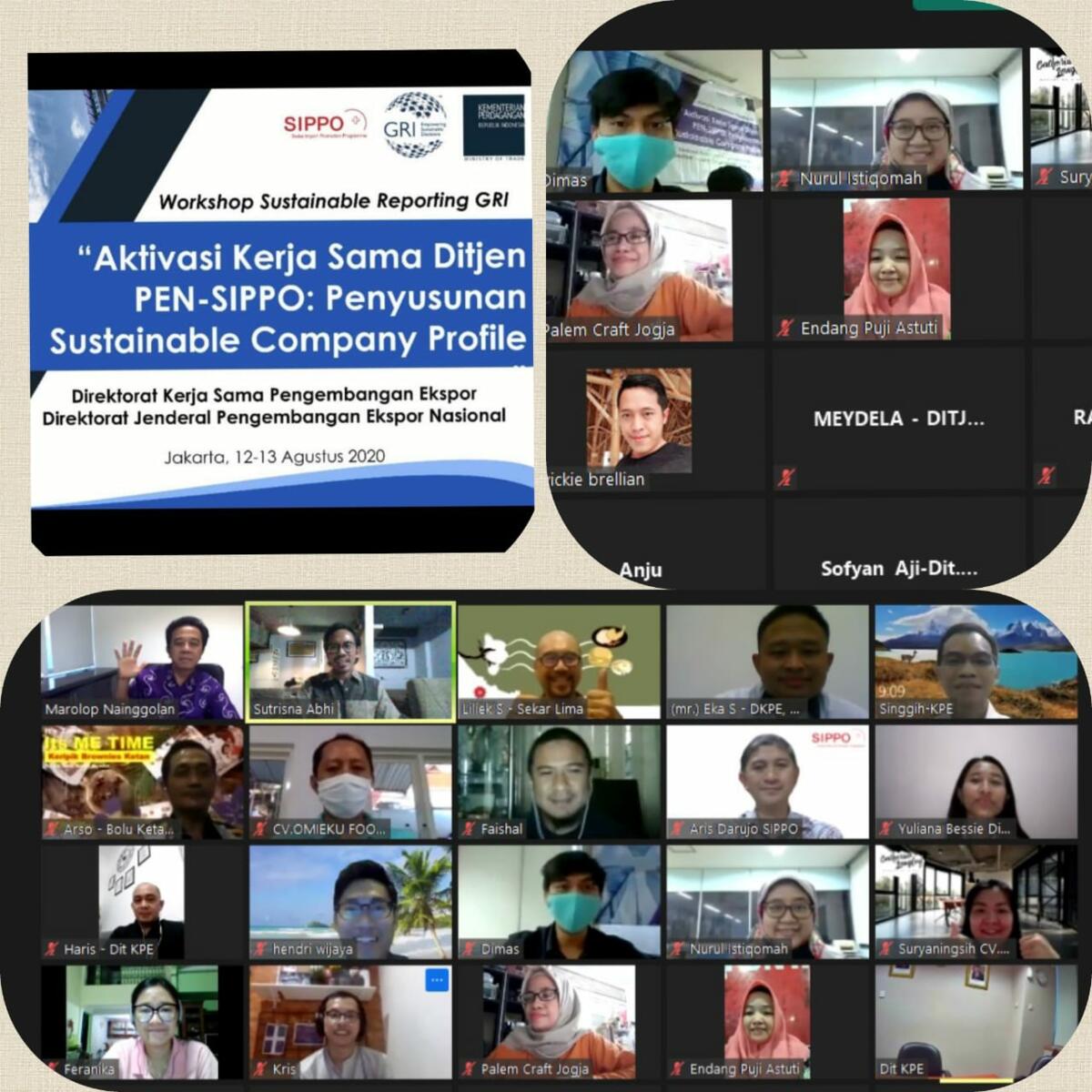 This training is a follow-up of the previous TOT training collaboration program of SIPPO Indonesia and GRI. The previous TOT training was designed to enable MOT staff to develop cutting-edge sustainability company profiles for SMEs which eventually will help SMEs to enter the global value chain. MOT's staff who attended the previous TOT training, have successfully conducted virtual sustainability company profile training for 17 SMEs on 12-13 August 2020. This training allows and teaches SMEs to expose their sustainability practices in a professional manner by applying GRI standards. SIPPO, GRI and MOT expect that SMEs who have developed sustainability company profiles will have a better opportunity to "open the door" to enter the global value chain and to open up new markets.
After the training, participants are encouraged to develop their own sustainability company profiles. They will be coached by MOT officers. Further, GRI and SIPPO staff observe and support all trainers during the preparation in the follow-up stages so that MOT staff gains concrete experience in assisting SMEs when they develop their sustainability company profiles.
The participants of the SMEs were very enthusiastic and motivated. They raised many questions, ideas and concerns regarding sustainability practices. Read the following quotes:
The Sustainability reporting training that was conducted by The Ministry of Trade of the Republic Indonesia and supported by SIPPO and GRI was really an excellent training that will best equip us to face the global market competition and furthermore to encourage us to be more responsible for our environment and ecosystem.                                                                  Mr. Liliek Setiawan – Managing Director of PT Sekar Lima Pratama
This training is very useful for us because it provides a structural and practical guidance to develop a sustainability company profile. The most important thing is, that we are coached by dedicated MOT, GRI and SIPPO staff to develop our own sustainability company profile. This motivates us to leverage our company profile to a more professional level, and we can better meet international SME qualifications.                                                     Ms. Suryaningsih - Founder of Kultiva Co.
To us, it is something new. We never had this kind of training. The training inspires and motivates us to continuously improve our production and marketing processes so that our products and organizations will gain a competitive advantage when competing in the global value chain market.       Mr. Jalian Sertiasa – Owner of CV. Bolu Ketan Mendut
This training is highly needed and very useful for SMEs because it provides us knowledge how to develop a structure and a clear company profile. Previously, we made a company-profile, but buyers could hardly see whether the document was a company profile or a product catalog. To me, this is a program that moves us really forward.                                                    Mr. Faisal - Managing Director of SILVER 999