SIPPO South Africa supports Wesgro with a Buyer Mission
A buyer mission to the Western Cape Region was organized and hosted by the BSO, Wesgro with support from SIPPO.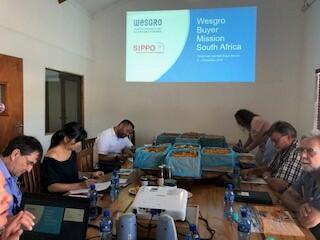 The mission, which took place from 4 - 8 November 2019, comprising of buyers from Europe from the dried fruits and nuts sector proved to be very successful.
It met the expectations of the organizers, the foreign buyers as well as the South African producers and suppliers.
The programme included a briefing by Wesgro about the economy of the Western Cape and opportunities for trade and investment and visits to companies in a number of the towns in the production areas,  such as Paarl, Stellenbosch, Worcester, Robertson, Montagu and Clanwilliam. The buyers were able to visit the production facilities and farms of a number of important South African suppliers and were particularly impressed with the advanced facilities, as well as the quality and range of products on supply.
Promising opportunities exist for the supply of conventional and organic dried fruit and nut products to the European market as a result of this mission, which laid a solid ground for future business relations.
SIPPO supported Wesgro with the planning, identification and recruitment of the European buyers and implementation of the mission.