SIPPO Peru and PROMPERU executed a webinar to publish the results of the sustainable tourism research in the COVID context and the Post COVID 19 scenario.
PROMPERU supported by the Swiss Import Promotion Program (SIPPO), a program sponsored by the Swiss Secretariat for Economic Affairs (SECO), has published the presentation of the webinar about the sustainable tourism sector in the context of COVID and the considerations for the post COVID-19 scenario, to tour operators and the general public interested in the sector. This presentation was executed in August 2020.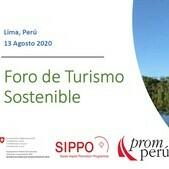 The presentation comprises the following components:
1.Trends and results of the research: Presentation of the general results of the sustainable tourist study, average frequency of international travel, average price of international packages in euros, and average price of the package in Peru. The level of comfort desired by country, way of traveling, perspective of sustainability certifications, topics of interest of the sustainable tourist, sustainable tourist vs conventional tourist, main activities of sustainable tourists, main sustainable destinations in Latin America, perception of sustainable tourists about Peru, tourism activities related to Peru, perspectives of the tour operators on Peru, strengths in sustainability, weaknesses in sustainability, strong national destinations in sustainable tourism, perspective of the tour operators, suggestions of the tour operators.
2.Post COVID-19 Scenario: Post-Covid 19 TTOO evaluations and trends, 3S destinations, circular economy, regenerative tourism, food sovereignty, benefits of sustainable tourism, future scenarios, territorial offer, sun and beach model, rural and mountain destinations, nature tourism , urban destinations, post-Covid 19 tourist profile, criteria when choosing the vacation plan, predisposition to travel, traveler stereotypes, marketing in the Covid-19 era, marketing strategies in the Covid 19 era.
3.  Benchmarking: Cases of the public sector in Spain, health and hygiene, capacities, change in trends, actions for recovery, actions for tourism sustainability, cases of Spain, Portugal, Sustainable Finland.
4. Considerations for the private sector: Cases of the private sector in hotels, restaurants, agencies. Lessons learned, tourist accommodation, measures taken by hotels, travel agencies, reflections.
SIPPO is in a continuous process of disseminating information developed at times of the coronavirus pandemic, in order to contribute to the institutional strengthening of its beneficiary organizations of food processes, sustainable tourism and technical wood.
The training process was developed by Beatriz Martin, a Spanish international consultant from SIPPO, who has followed an internal process of prior training and commercial intelligence that is now being published, updating the contents to the context of COVID and post-COVID 19.