SIPPO and Swiss Cooperation Projects in support of empowering women in the bio trade sector in South Africa
On the occasion of Women's Day 2023 in South Africa, SIPPO as a well-established mandate of the Swiss State Secretariat for Economic Affairs (SECO) participated in a joint action of all four SECO-partners in South Africa to celebrate the theme "Women's Socio-Economic Rights and Empowerment: Building Back Better for Women's Improved Resilience." All four SECO projects target different but complementary aspects of bio trade value chains. SIPPO is engaged in the sectors Natural Ingredients and Processed Foods.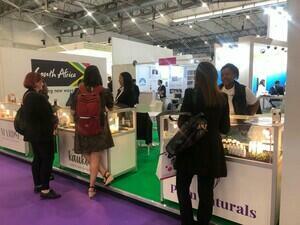 The bio trade sector provides opportunities to drive the active participation and empowerment of women, who are key to creating the enabling conditions for socio-economic change.
Women have proven to be outstanding at developing relationships and implementing strategies to empower business leaders and nurture good governance.
The Swiss State Secretariat for Economic Affairs SECO considers gender equality an important element of poverty reduction, social inclusion and economic development. SECO recognises that promoting gender equality is not just the right thing to do, it is also the smart thing to do. It adopts a pragmatic approach to promoting gender equality through the do no harm approach; ensuring its development projects include the gender dimension and do not support factors that may negatively affect individuals and groups. No projects should place either women or men at a disadvantage.
SECO's four projects in South Africa (ABioSA, GQSP, SIPPO, and SSAIP) target different but complementary aspects of bio trade value chains, with the overall aim of developing the sector, while being intentional about empowering women to participate, contribute and benefit in line with the Sustainable Development Goals.
On Women's Day 2023 SECO joins its partners to celebrate the theme Women's Socio-Economic Rights and Empowerment: Building Back Better for Women's Improved Resilience.  
Below we show how the four SECO projects in the bio trade sector contribute to this objective.
The ABS Compliant Biotrade in South(ern) Africa (ABioSA) 
The ABioSA project is implementing a systemic competitiveness approach to support the bio trade sector, so it focuses on companies as well as sector-wide initiatives. ABioSA strives for direct and tangible impacts with people and companies, but also contributes to systemic change, which can produce more sustainable outcomes.
For example, securing registration of Marula as a novel food in the European Union would create access to important international markets for the entire sector, and not just companies being supported by ABioSA.  
The second phase of ABioSA (2021-24) provides capacity development and promotes the empowerment of women in local communities and companies. It supports the participation of women and youth in implementation of sector development plans, and their inclusion in management and governance structures within sector associations.
Global Quality and Standards Programme – South Africa (GQSP-SA)  
The GQSP-SA focuses on strengthening the quality of indigenous essential and vegetable oils produced in South Africa and is implementing a mixed approach to socio-economic empowerment.
It promotes the safe and non-discriminatory delivery of national quality infrastructure-related services favourable to trade. Recognizing the leading role of South African women as drivers of economic development, the project invests in skills development to drive the socio-economic empowerment of women in bio trade value chains.
Swiss Import Promotion Programme (SIPPO)
SIPPO aims to expand the number of women exporters of bio trade products, by enhancing the export promotion services of business support organisations (BSOs) for their companies. This includes the growing use of digital tools for the promotion of exports. SIPPO also focuses on creating awareness within BSOs of the importance of sustainability criteria to ensure bio trade exporters comply with requirements for exporting to Switzerland and the rest of Europe. Through SIPPO's capacity development interventions, it promotes the importance of expanding the number of women-owned companies at international trade fairs.
Swiss South African Intellectual Property Project (SSAIP)  
The SSAIP aims to contribute to South Africa's socio-economic development by promoting the use and protection of intellectual property rights (IPRs).  On 26 April 2023, the World Intellectual Property Organization celebrated the can-do attitude of women inventors, creators and entrepreneurs around the world with the theme Women and IP: Accelerating innovation and creativity. 
IP resources available to women in bio trade include patents and copyright that can protect innovations and creative works, whereas a trademark can be used to grow a brand and distinguish it from competitors.  A Geographical Indication, for a product that possesses certain qualities or reputation due to its origin, has become a significant IP asset and can be used as a tool for rural development and the preservation of cultural heritage.  IPRs can provide women in bio trade with the resources to increase economic and strategic opportunities in the marketplace. SSAIP is working with the Companies and Intellectual Property Commission of South Africa to enhance the IP system and make it more accessible to the public.
In the words of Melinda Gates: "Investing in women means investing in the people who invest in everyone else."