PERUVIAN PROCESSED FOOD COMPANIES HAD AN OUTSTANDING PARTICIPATION IN PLMA – PRIVATE LABEL AMSTERDAM
The Peru's Commercial Offices Abroad - OCEX Rotterdam and Lima Chamber of Commerce - CCL had an outstanding participation in SIAL.  Based on the coordination of The Exports Promotion Board of Peru (PROMPERU) and The Swiss Import Promotion Programme - SIPPO to support the capacity building in trade fairs of Europe, the institutions participated at PLMA – Private Label Amsterdam.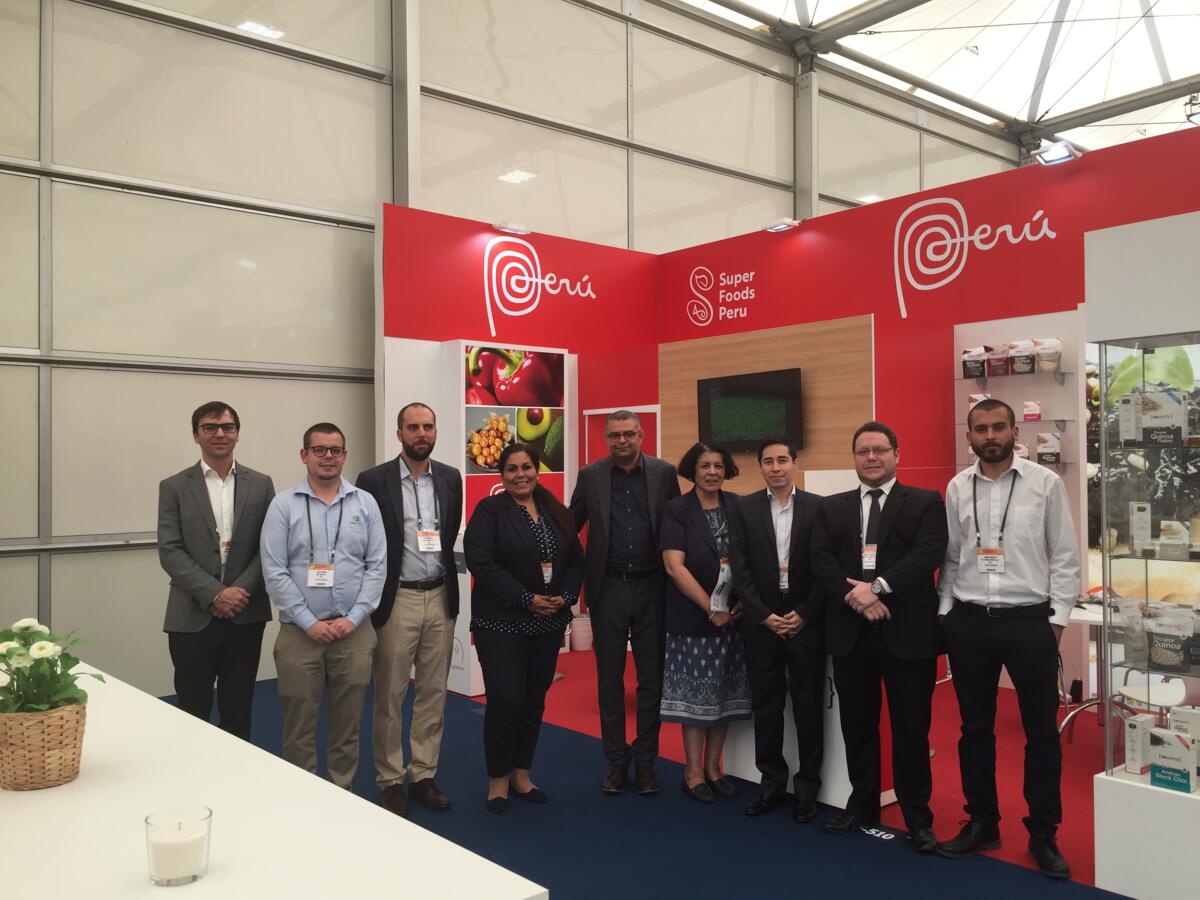 SIPPO had an excellent coordination with Promperu, OCEX, CCL to boost exports in PLMA trade fair.
Lima Chamber of Commerce (CCL) XCOM guild representative and OCEX Rotterdam had a resounding impact on the Peruvian exporters with great results in the organization and the pavilion.
The expanding popularity of private label has led to unprecedented market share worldwide. Record high market shares have been recorded in more than a dozen countries, and private label now accounts for 40% of all products sold in the main six European countries (France, Germany, Italy, Spain, the Netherlands and the UK). PLMA's 2018 "World of Private Label" International Trade Show presented more than 2,500 exhibiting companies including 60 national and regional pavilions. Products on display included frozen, refrigerated foods, ready to eat food, fresh products, dry grocery, and beverages. Peruvian companies shined in the fair with excellency, showing the high quality of the peruvian products, De Guste Group, Inka Crops, Qfoods, Multifoods, Villandina and Damper were supported effectively by OCEX Rotterdam. These companies showed their portfolio of canned, dried fruits, chips, canned asparagus, artichoke, piquillo pepper, goldenberry. Also dehydrated products, dried golden berries, dried mango, dried maca chunks, quinoa bars with orange and peanuts, with raisins and chocolate, grains and superfoods packed. These companies have certifications as HACCP, JAS, USDA/NOP EU. UEBT. BRC., Union for Ethical Biotrade ready to export to Europe. The private label trade show brochure is available to download, so is possible to access to the full portfolio of Peruvian companies for further detail.
For more than thirty years, PLMA's "World of Private Label" International Trade Show organized by the Private Label Manufacturers Association represents more than 4,000 members manufacturers around the globe. The event brings together exporters, importers, retailers, wholesalers and other private label professionals with manufacturers to help them find new products, make new contacts, and discover new ideas in the processed food sector. This year the event was held May 29-30th in Amsterdam– Netherlands. PLMA's "World of Private Label" International Trade Show took place at the RAI Exhibition Centre in Amsterdam. Considered one of the most convenient exhibition halls in the world today, it is located only near the city center of Amsterdam.