MMAF is expanding Indonesian seafood market share through SEG 2018 in Brussels, Belgium.
Expanding Indonesian Seafood Export market share through Indonesia country pavilion at Seafood Expo Global (SEG) 2018 in Brussels, Belgium.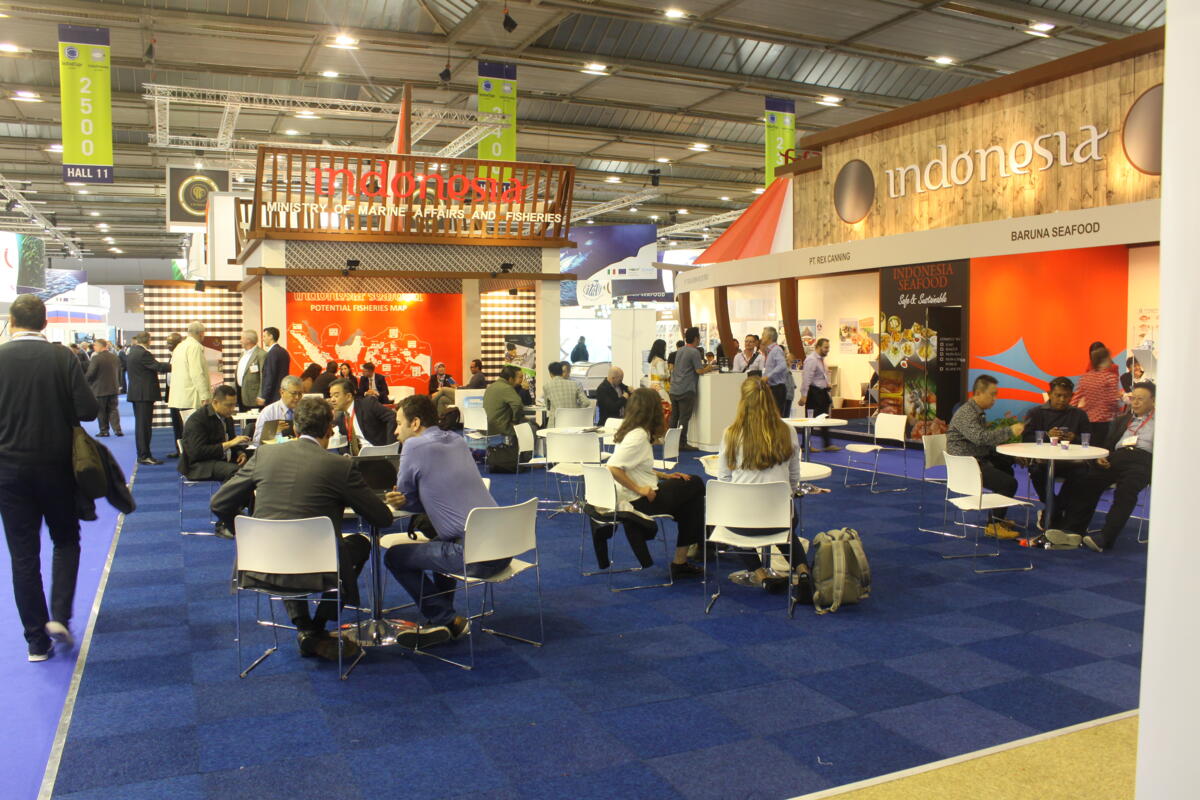 Indonesia's Ministry of Marine Affairs and Fisheries (MMAF) participated in the Seafood Expo Global (SEG) 2018 in Brussels, Belgium through Indonesia country pavilion to promote the country's growing seafood sector. The pavilion, occupied by 15 co-exhibitors, attracted 400 fish and seafood importers from across the globe.
On this occasion, SIPPO hired Mr. Torsten Piecha from Pro-Organic as a trade promotion consultant to support the MMAF in promoting the pavilion. Mr. Torsten Piecha, with his many years of experience in trade promotion, provided valuable skills and much needed insight to the ministry.  Mr. Piecha and SIPPO Indonesia team provided intensive coaching, guidance, advice and self-learning experiences for MMAF staff, centered on promoting the Indon esia country pavilion prior and during the SEG 2018. By imparting essential knowledge and skills, SIPPO aims to improve MMAF's capacity to promote and expand Indonesia's market share of seafood products in the global market.
To achieve the objective, there were training and workshops conducted prior and during the exhibition including a pre-fair workshop and training on outbound marketing, email campaigns and elevator pitch preparation.  The pre-trade fair workshop provided participants with information on trade and marketing trends as well as networking skills. Meanwhile, the outbound marketing, email campaign and elevator pitch training aimed to attract and invite as many potential buyers as possible to visit the Indonesia country pavilion. To apply what was learnt, MMAF staff performed the outbound marketing activities and elevator pitch under the close supervision of the SIPPO consultant in Brussels and gained valuable practical experience in doing so.
Furthermore, MMAF, The International Pole and Line Foundation (IPNLF), SIPPO and Sustainable Market Access through Responsible Trading of Fish in Indonesia (SMART-Fish) project helped organise the networking reception which took place at the Indonesia pavilion on April 25th. The objective is to build closer relationships among Indonesian co-exhibitors, pole and line tuna buyers, and other seafood buyers. This event was attended by Indonesian Ambassador to Belgium, H.E. Yuri O. Thamrin, the Director General of Product Competitiveness of MMAF, Mr. Nilanto Perbowo, an Industrial Development Expert of UNIDO from Vienna, Mr. Nima Bahramalian, and the Managing Director of IPNLF, Mr. Martin Purves.
Besides the capacity building program, MMAF was able to build and develop current and updated fish and seafood importer database. With this database, the MMAF will be able to establish a broader network of credible fish and seafood buyers that will help MMAF promote Indonesia's fish and seafood sector in the future.